When I looked back, why I was attracted to 1superkids and finally join the group?
There are many reasons but the one most outstanding is that it provides lots of information and allow lots of rooms to make more friends especially among mombloggers.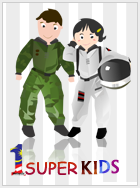 As a working mother whom is staying at home full time for a temporary duration (I am having my break until after confinement or maybe longer for breastfeeding) I always craving for daily dose of knowledge, interaction and active thinking.

After surfing for a while I've bumped into this one superb blog name 1superkids! First impression, I just love the named used as well as the named of the founder's blog - mysuperkids, as it is like a prayer and it unconsciously influence our subconscious mind that we have kids at home whom are superkids and we are the supermoms!! Isn't that great?!

Can we imagine when more and more people joining and contributing in this blog, surely each of us will gain the benefit which are for free!! MasyaAllah..sharing is caring..because we are a caring mother that is why we share!So I think this is the best chance for us to make a difference,be a good proactive mother hence be a supermom for our own superkids as well as other mothers' kids as well by sharing and caring to each other!
And did anyone notice the badge for 'I love conteng-conteng' on my sidebar?..that site link to 1superkids and it is a superb site for you to show your appreciation on your kids art works!!come and join! You can even sell your kids masterpiece there!

Some benefit and information on 1superkids:
1SuperKids is established for parents, aunties, uncles, etc. as a sharing platfrom to share and learn about other experiences, not only in parenting, but also everyday tits and bits as parents and parents to be.
1SuperKids is collaborating with Conteng-Conteng, where Conteng-Conteng is an online gallery where our children could submit and sell their artworks.
1SuperKids needs your entries and we'll publish in 1SuperKids accordingly. The best articles of the month will receive tokens from 1SuperKids.
1SuperKids has dedicated columnists whom are very well versed in their field.
I've joined it and I benefited a lot..so why don't you?!